Blue Knights' 2014 program carried special meaning right out of the gate of that summer's DCI Tour for director Mark Arnold.
In an emotional depiction of the rush of thoughts that takes place when one's life flashes before their eyes — inspired by the message of The Cinematic Orchestra's "To Build a Home" — "That One Second" took 2014 drum corps audiences on a split-second journey through a lifetime, and rode that journey to the corps' best competitive finish in seven seasons.
And For Arnold, "That One Second" came to life on the DCI Summer Tour mere days after the passing of his father.
"It reminds me to look back at how beautiful a life my parents had," he said. "It helps me remember how full their lives were and how grateful I am to them for sharing their love of music."
Ultimately, that was the goal of "That One Second;" it could carry deep meaning for anyone, based on their own interpretation and life experience.
And as the seconds ticked by on one of Blue Knights' more memorable prop pieces from 2014 — a digital clock, positioned on the right side of the field — audience members could relate their own lives and memories to the story being told in front of them.
"This season and our show has taught me to live in every single moment, especially here this summer." said Blue Knights color guard member Sarah Anderson. "I know I've got to do my best in everything, even outside of drum corps. Never sell yourself short."
2014 Blue Knights | "That One Second"
8th place, 91.150
For many years prior to 2014, Blue Knights had donned a uniform jacket, the base of which prominently featured royal blue, black, and a white triangle across the front, with the corps' logo featured on the left side of performers' chests.
The corps' previous well-known uniform included, as well, black pants, and a black shako hat with a noticeably-tall white plume.
Elements of that same look were worked into 2014's uniform — the plume was still quite tall, and the general shape of the jacket was somewhat similar, with one layer of uniform overlapping another, similar to the previous jacket's white triangle piece.
But the overall look was a major departure; royal blue was replaced by a softer, lighter blue, and a deep black base was replaced by a heavier influence of white. The Denver corps also included a handful of gray accents, which provided a base color for an array of light-blue-to-white gradients in the corps' jacket and plume.
Color guard members donned a similar color palette, in a costume that featured shiny and glittery textures and an array of gray dots, a nod to the corps' emblem.
"I've always heard your entire life flashes before your eyes the second before you die." "First of all, that one second isn't a second at all, it stretches on forever… like an ocean of time."
Watch the 2014 Blue Knights on Blu-ray disc
Coupled with airy and ethereal tones from the front ensemble and a soft and poignant featured snare drum entrance, this quotation set the stage for "That One Second." This, and all other voiceover references, were pulled from an emotional soliloquy from the 1999 film, "American Beauty."
The opening quote's imagery perfectly matched subtle metaphors tucked into the snares' music, with isolated, cutting accents sticking out of steady percussive patterns representing "seconds," while sustained, crescendoing buzz rolls represented time "stretching on forever."
Building front ensemble passages and growing melodies of James Horner's "Kaleidoscope of Mathematics," as featured in the 2001 film, "A Beautiful Mind," created a thoughtful soundscape as brass entrances grew into a fuller corps sound.
The corps' dynamic levels cascaded up and down throughout the opening build, all leading toward a punchy entrance with the full horn line positioned in a wedge form just to the right of the 50-yard line. The opening impact finished with a reprise of the show's opening battery percussion patterns and voiceover quotation, before one last loud brass sequence.
Coming out of Blue Knights' first movement, the corps slowed things down briefly, with references to "To Build a Home" and "Kaleidoscope of Mathematics" woven into a more pensive and quiet moment, highlighted by a baritone and mellophone duet at midfield.
The pace picked up quickly, though, as Blue Knights continued to pair together a strong brass sound, compelling percussion music for which the motifs once again correlated to the tone of the voiceover, and well-timed references to the show's opening quotation.
"I remember lying on my back, watching falling stars…"
To match this second quotation, Blue Knights turned one of several prop panels to reveal a starry sky behind the silhouette of an oak tree.

This moment transitioned the Denver corps fully into its ballad movement, Bobby McFerrin's "Brief Eternity." While several members of the corps' horn line lay on the field, looking straight up "at the stars." A mellophone solo — followed by a mellophone soli — set the musical stage for the movement.
As musical tension built and more instrument groups entered, Blue Knights spread out into a curvilinear form for a powerful initial impact moment, which prominently enveloped a pair of color guard members dancing with one another. With the conclusion of one powerful musical moment, the depictions of memories continued into further development of the McFerrin tune.
Blue Knights, especially throughout the corps' ballad, subtly continued to tie in small visual storytelling elements to help further draw audience members into the memories of the narrator.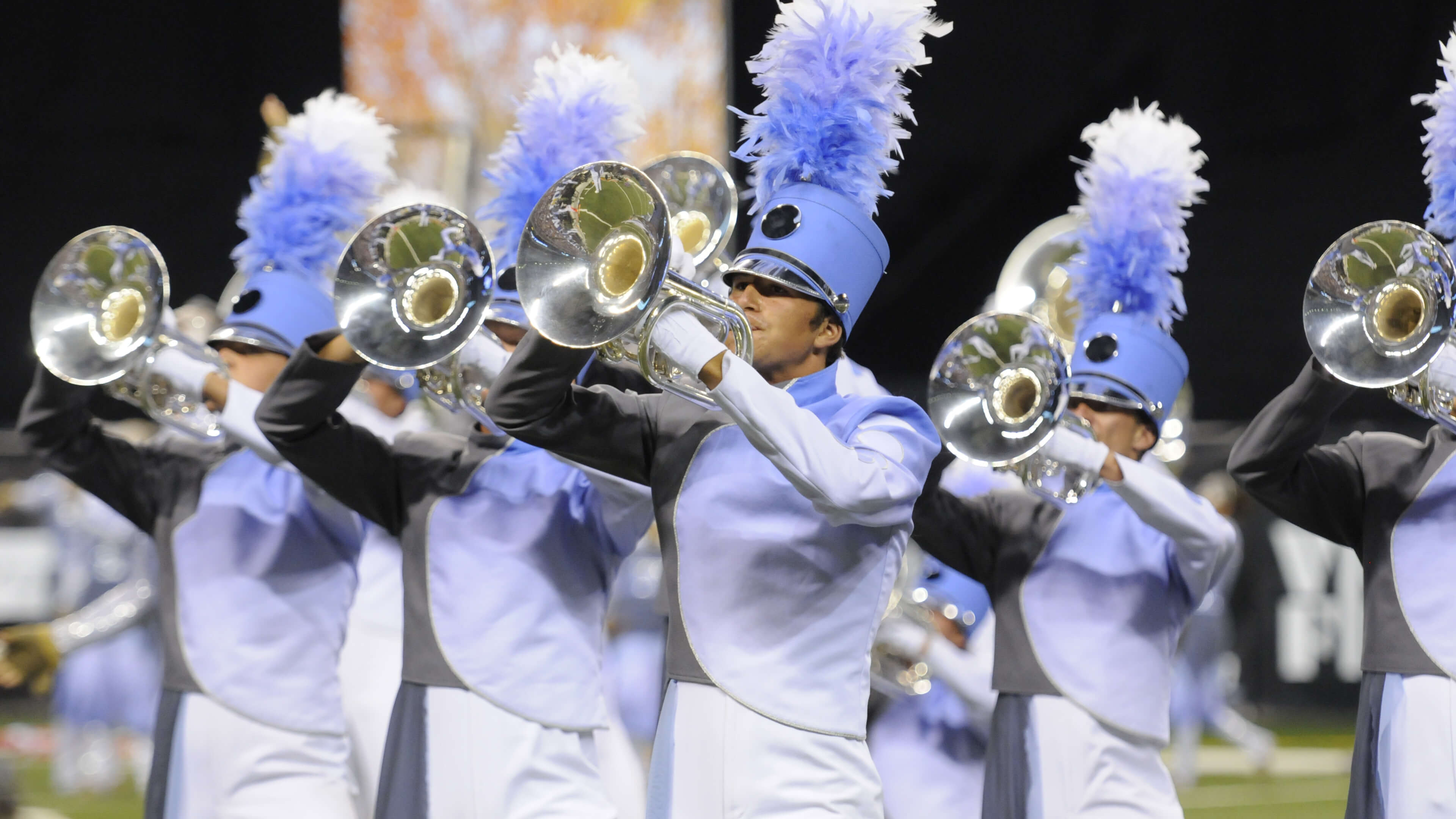 "...and the yellow leaves from my favorite maple tree."
On this note, a solo color guard member introduced a single flag with a yellow leaf, descending from the top of a tall prop which featured the image of a maple tree.
"...or my grandmother's hands, and the way her skin felt like paper."
With this reference, one color guard member – dressed in a pink shawl, seeming to represent the image of an older woman, touched hands with a trumpet player.
This moment brought a musical transition into the pinnacle of Blue Knights' ballad. Emotional, loud melodies provided a musical background for the introduction of several more images on props, bringing to life memories that could be relatable to many — a day at the carnival, a baby posing for a photo, children running on the beach, or a beautiful lightning storm.
Blue Knights included, in this array of still images, a drum corps rehearsal photo, offering a nod to the show's connections not only to cherishing memories from life as a whole, but from the drum corps experience, too.
At this point, the corps had successfully tugged at audience members' heartstrings, and offered a touching moment for nostalgia and reminiscence. But there would be more to the story.
"Sometimes, I feel like I'm seeing it all at once. And it's too much. My heart fills up like a balloon that's about to burst."
Blue Knights depicted the stress of this quotation perfectly with tense, uptempo and syncopated music. The corps' more driving fourth movement featured "Hand of Fate," a James Newton Howard piece from the 2002 science-fiction movie, "Signs." The piece itself matches the film's suspenseful tone and "thriller" nature.
This fourth movement also provided the opportunity for Blue Knights' musical prowess to be on full display. Intense and complex passages of battery percussion and brass volleyed back and forth, before building into a more satisfying and triumphant final push toward the corps' closing movement.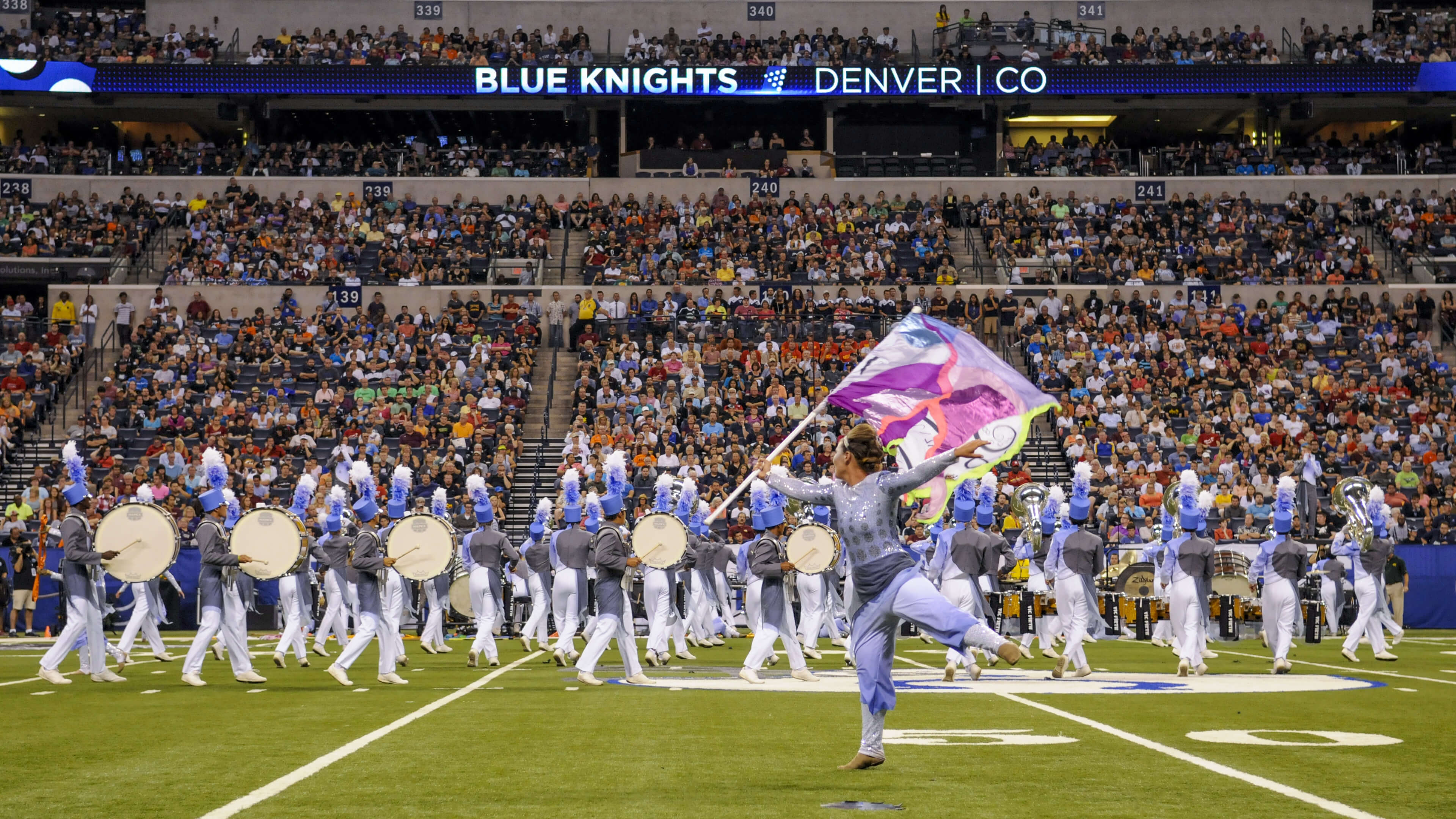 It was in Blue Knights' closer that the show's inspiration was fully introduced. Lyrics of "To Build a Home" intermingled perfectly with further references from the "American Beauty" soliloquy, presenting a sense of peace and finality to the narrator's experience.
"And then I remember to relax, and stop trying to hold on. Then, it flows through me like rain. And I can't feel anything but gratitude for every single moment."
Soft brass swells, following the chords of "To Build a Home," provided a calm and reflective soundscape for these final sentiments.
And then, a subtle reminder of the show's true meaning — it wasn't about dying. It was about living.
"You have no idea what I'm talking about, I'm sure. But don't worry, you will someday."
From there, Blue Knights drove to the finish line. In a closing movement that had a celebratory feel, performers brought forth energy, emotion and impressive movement to the very last note.
And as the final chords rung out, one member posed proudly in uniform, his shako in his left hand, with a picture of himself, in the same moment, displayed behind him on a prop.
In this moment — both figuratively by way of the prop, and literally — Blue Knights' 2014 production became a memory never to be forgotten, a final second to be remembered across an ocean of time.
A Step Up
2014 was a banner competitive year for Blue Knights in context, as the corps earned, to date, its highest score since 2000 and its highest competitive placement since 2007, earning eighth place overall.
The corps had spent the two previous seasons in 10th place, and hadn't finished a season over 90 points since that same 2007 season.
It wasn't until mid-July that Blue Knights found themselves in any kind of close competitive race, but that changed at the first meeting of the Denver corps and Phantom Regiment, as less than a point separated the two at their first meeting, July 16 in Broken Arrow, Oklahoma.
Blue Knights earned a key head-to-head victory over Regiment at 2014's marquee Atlanta, event, but didn't score ahead of the Rockford, Illinois corps again until the DCI World Championship Prelims in Indianapolis.
Ultimately, although Blue Knights landed ahead of Phantom Regiment at the first two days of DCI World Championship events, Phantom Regiment made a final push ahead on the season's last day.
Above all, Blue Knights' music scores were especially a strength in 2014. The corps placed seventh in the overall music caption, while finishing sixth in percussion specifically.
Related Content