Gallery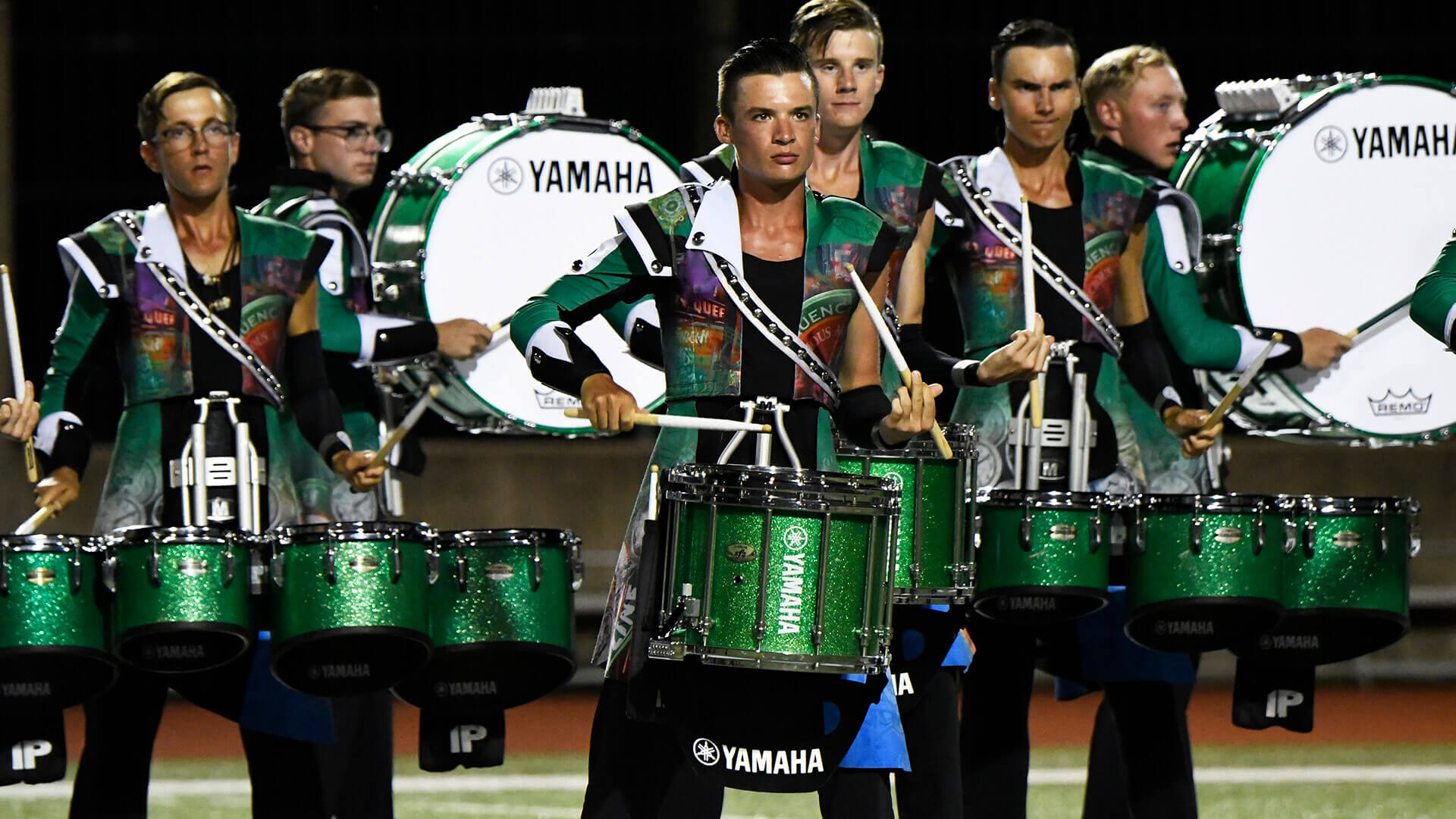 ALLENTOWN, Pennsylvania – At one of DCI's most historic venues in its 50th anniversary season, Blue Devils celebrated its own 65th anniversary with a resounding victory at Friday's edition of the DCI Eastern Classic presented by the U.S. Marine Drum & Bugle Corps.
The Concord corps, with a top score of just over 96 points, continued its undefeated 2022 campaign and will now set its sights on its next performances, at the DCI World Championships in Indianapolis, August 11-13.
DAY-BY-DAY GUIDE TO THE 2022 DCI WORLD CHAMPIONSHIPS
1. Blue Devils » 96.050

2. Boston Crusaders » 94.500

3. Bluecoats » 94.375
With its Friday result, Blue Devils significantly increased the corps' lead over Boston Crusaders; the two were most recently separated by 0.175 points July 30 in Atlanta. Blue Devils took top scores in all captions except color guard, which went the way of Boston Crusaders by a tenth and a half.
For Boston Crusaders, the week leading up to the DCI Eastern Classic was a successful string of performances that included the corps' all-time-high score. According to drum major Hunter Britton, motivation is high amongst the Boston corps entering the summer season's final week.
"The approach has always been the same," Britton said. "The theme this year is, 'Happy, not satisfied,' always trying to beat ourselves. At the end of the day, how much better can we be than the previous block or the previous day?"
Bluecoats made up significant ground on the Boston corps at Friday's event, scoring within 0.125 points. The Canton, Ohio corps scored second in general effect — a miniscule 0.025 points ahead of Boston Crusaders — and finished just a tenth behind Blue Devils' top percussion score.
4. Mandarins » 88.700

5. Phantom Regiment » 88.375

6. Colts » 84.525

7. Blue Knights » 84.100
An intriguing race between Mandarins and Phantom Regiment — one which last saw Regiment hold an advantage of just 0.05 July 30 in Atlanta — continued Friday. Thanks largely to strong scores in visual captions, Mandarins regained a slim lead of just 0.325.
Colts continued the corps' strong push toward the DCI World Championships, eyeing their first Top 12 finalist bid since 2007, while scoring ahead of Blue Knights for the third time in as many meetings. The Iowa corps held a nearly nine tenths advantage in general effect.
Friday night, though, the Denver corps closed its gap significantly. The two were separated by 2.55 points Monday in Huntington, West Virginia, compared to just 0.425 in Allentown. Blue Knights' music scores were at a strong advantage, half a point ahead of the Colts.
"This is my fourth year in the activity and the first time to ever perform (in Allentown)," said Blue Knights drum major Ethan Masters. "This crowd is breathtaking."
"We just know that we have a limited amount of days to do this show with this group of people," Masters added, reflecting on the final push to the end of the 2022 DCI Tour. "We're just enjoying all the time we have left. Really putting everything into the show, making sure that every single time we perform it it's a little bit better than we did previously."
8. The Academy » 78.450

9. Music City » 78.000
Music City made up significant ground behind The Academy, finishing the closest it has to the Arizona corps at any point this season. A week ago in Atlanta The Academy outscored Music City by nearly a point, but just 0.45 separated the two in Allentown.
For Music City, its main advantage came in general effect, where the Nashville corps finished seven tenths over its Tempe, Arizona counterpart. The Academy held leads in total visual and music captions.
The DCI Eastern Classic pres. by the U.S. Marine Drum & Bugle Corps continues Saturday at 6:30 p.m. ET at J. Birney Crum Stadium, with performances from 11 World Class ensembles, as well as Reading Buccaneers and Sonus Brass Theater.
gallery-2022-dci-eastern-classic-allentown-pa