In the corps' third year since returning from an inactive season, Spartans' 2012 show title was apt to its status.
Immediately following three Division II/III championship titles in the spand of four years (2004, 2005, 2007), Spartans fell to 14th on the Open Class leaderboard before taking a one-year hiatus. By the outset of 2012, Spartans were back on the map, having earned top-five Open Class finishes in back-to-back seasons since their return.
As such, "Renewal" was more than a spot-on descriptor of the Nashua, New Hampshire corps' experience in the early 2010s.
Ultimately, on a beautiful tapestry of bright colors and classical music, the corps' 2012 production utilized a pair of Igor Stravinsky staples — "Firebird Suite" and "Rite of Spring" — to paint a vivid picture of rebirth and regeneration, not for just anyone, but for the organization itself.
"'Renewal' represents the ongoing reemergence of the five-time World Champion Spartans," the corps included in its production notes, "and the group's renewed commitment to innovation and artistic excellence."
2012 Spartans | "Renewal"
24th Place, 70.750
For the 2012 season, Spartans kept the same uniform it had worn for several previous seasons intact. A uniform well-tailored to its corps' name, Spartans' look featured cream-colored pants, a black jacket with two columns of silver buttons, red accents in the midsection, and a black Spartan helmet with a flowing black plume.
Guard members' costuming brought the color to the production, each wearing an array of shades — red, bright green, purple, gold, orange, yellow — in varying patterns from performer to performer. The color guard, however, opened the production scattered throughout the field, covered in translucent, black shrouds.
"Renewal" was split into five movements — all based on sections of Stravinsky's music — with the first three featuring sections of "Firebird." As the show began, dark tones immediately resonated from the front ensemble and low brass, creating a brooding and sinister atmosphere.
A lone trumpet soloist echoed the primary melody from "Rite of Spring," juxtaposed against the darker "Infernal Dance" tones of "Firebird," as music grew from the full horn line toward a driving, syncopated opening section. Color guard members began to remove their coverings throughout this first movement to reveal their brighter costumes, but one member remained in a sleek all-black costume, performing with dark, neutral-shaded flags while her fellow color guard performers continued on with brighter hues.
The opening sections provided plenty of opportunity for aggressive passages of percussion, as well as rhythmically-challenging front ensemble and brass melodies, and even included a sudden and well-timed accelerando from the corps' battery to lead into a strong final push.
Spartans' tone grew lighter into the corps' second movement, featuring "The Princess Game with the Golden Apples" from "Firebird." Front ensemble and battery percussion took center stage early on in movement two, with the on-field percussionists split into two halves on either side of the field for a sort of call-and-response effect.
A small brass choir positioned in the front ensemble entered with light waltz-like music before the full horn line returned with longer, fuller tones. This movement ended on a very light-hearted note, with members grouping together largely in pairs, shouting the word, "cheese!", and all smiling in different poses toward the audience.
What came next was much softer and more emotional in tone, as the corps presented "Dance of the Princesses" from "Firebird." A flowing ballad featured a trumpet soloist positioned just to the left of the 50-yard-line, as color guard members utilized blue silks — juxtaposed against their previous flags, which featured bright purples, yellows and pinks — to compliment the tone of the music.
Music rose and fell longingly in a gradual build toward a strong climax. Hornline and battery members, on the left side of the field, formed a large swirled shape as they punched the ballad's resounding final chords.
The production took a sharp shift into its fourth movement, which brought with it the energetic and frenetic pace of "Rite of Spring" — specifically speaking, its "Dance of the Earth" movement. While sharp synchopated and accented chords echoed from the horn line in a driving four-four feel, Spartans' percussion once again displayed its prowess in a high-speed section of varying features and featurettes.
Brass performers returned with strong energy following these percussive passages, pushing through the final notes of "Dance of the Earth" and into the production's climactic melody, "Berceuse and Finale" from "Firebird."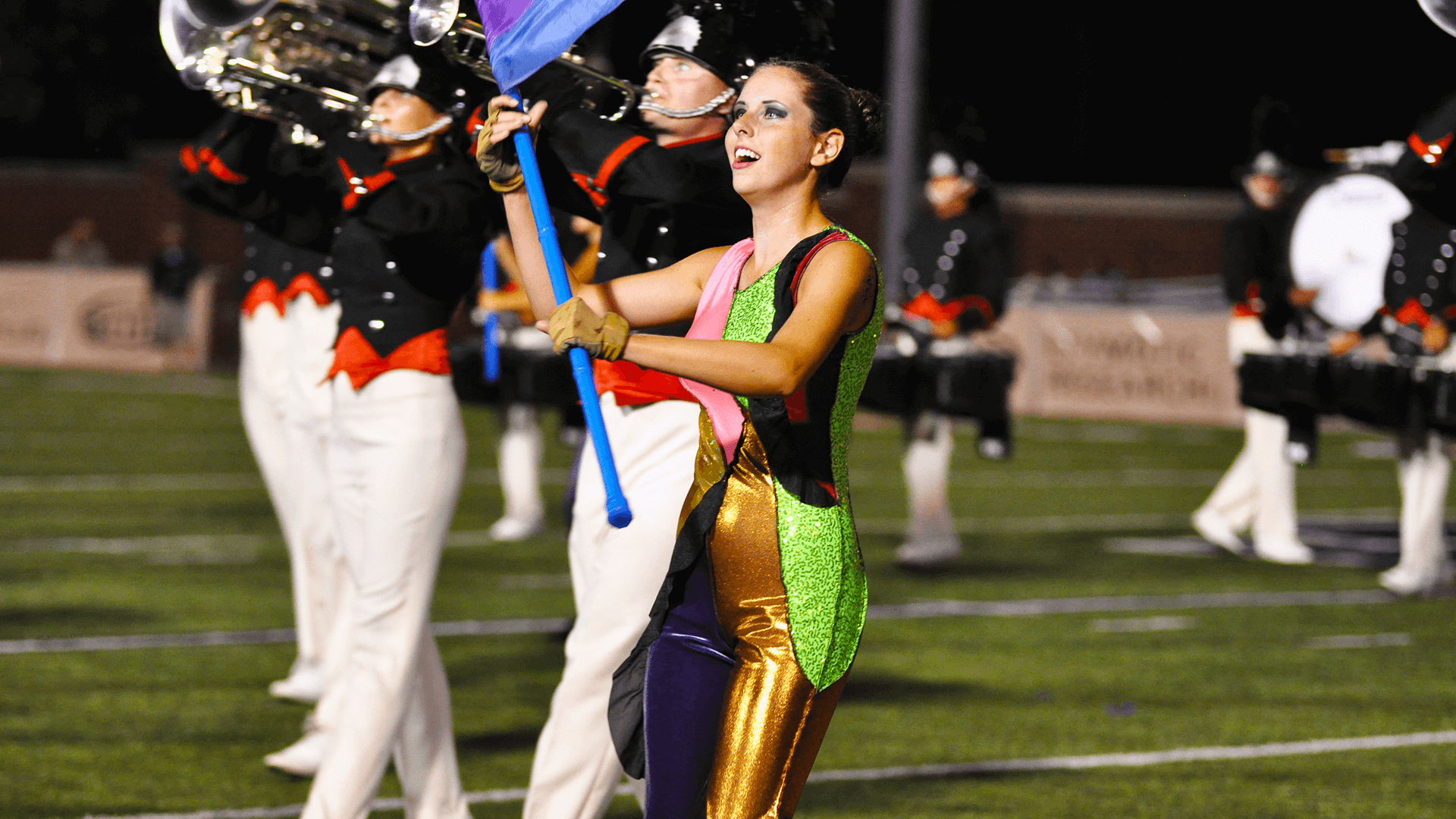 A triumphant and inspiring movement, "Berceuse and Finale" provided the perfect musical bed on which Spartans could grow its image of full regeneration, playing fitting music that depicted the phoenix's rise from ashes into its newly-reborn self. At the movement's emotional peak, Spartans entered into a rousing company front, emphasizing the iconic chords of "Firebird" in strong unison.
As music picked up toward the finish line, one color guard member specifically dressed in fiery shades of red and orange, carrying two swing flags of the same color palette, emerged from the front ensemble and ran around the corps and to the back of the field, flapping her flags like wings as if to portray the phoenix itself.
When the production reached its victorious finale, she stood triumphant just behind the corps' final form, joyously representing not only the majestic phoenix, but her own corps itself.
New Territory
Competitively speaking, 2012 was a new step forward for Spartans.
In just the second year of Open and World Class' combined competition at the DCI World Championships in Indianapolis, Spartans qualified for Semifinals with a spot in the Top 25. The year prior had seen the New Hampshire corps fall just outside the Semifinalist pool, finishing 26th, 2.90 points behind 25th-place Jersey Surf.
Spartans had to fend off Cascades in 2012's World Championship Prelims for their 24th position, but the corps didn't leave much doubt in its Semifinalist position, outsourcing 26th-place Gold by exactly three full points.
At Open Class championship events in Michigan City, Indiana, Spartans landed on somewhat of a competitive island, consistently scoring about two points behind the top three corps while holding leads as substantial as five points over fifth-place 7th Regiment.
Spartans had gone head-to-head with 7th Regiment on a few early- and mid-season occasions given the two corps' geographic proximity. 7th Regiment got the better of its Nashua-based opponent in the corps' first meeting; the two then tied in the second, before Spartans took a slim advantage in mid-July.
All in all, Spartans' strong-suit, undeniably, was the visual caption. The corps placed second overall in visual at Open Class Finals, while winning the color guard caption by a solid margin.