Genesis left the ranks of the Open Class division with a bang.
It was clear from the announcement of their 2016 production's title that the Texas-based corps wouldn't be holding back any fire.
Then again, it's hard to imagine a much more aggressive name for a program than "Hell Hath No Fury."
The production, inspired, by Euripides' "Medea" — the story of a woman's relentless revenge against her disloyal husband — embodied that aggression.
Ultimately, as was outlined by the corps in its program notes, the production, its design and its chosen repertoire were all meant to capture "the full spectrum of 'girl power,'" bringing to life a centuries-old story with a mix of classical and modern musical styles.
2016 Genesis | "Hell Hath No Fury"
23rd place, 73.375 | 4th place, 75.250 (Open Class)
Genesis took the field in 2016 with an eye-catchingly high-contrast visual palette.
The corps proper donned a new uniform that included black shoes and pants, a black-to-white gradient jacket, and a white pinstriped shako with a bright white plume. Color guard members opened the production in white, floor-length, flowing dresses that featured gold and purple accents.
Placed on the field — at the start, all to the right side of the 50-yard line from an audience member's perspective — were an array of Doric-like pillars, with white top and bottom pieces connected by white bars, which enveloped a purple middle piece.
For the show's opening moments, Genesis' members were strewn about the field, many in the vicinity of the pillars, as narration — backed by swells of Nino Rota's "Love Theme (from Romeo and Juliet)" from the corps' horn line — set the tone.
"My love, you are my life — my only."
Soft music grew quickly to a tasteful first statement, as the full corps surrounded a newly-introduced main character, whose costuming featured added splashes of purple and red. During this first impact moment, she — understood to be the "Medea" character — embraced a corps member portraying Medea's husband, and the two parted from one another.
From there, Genesis' "pre-show" was over, its production was officially introduced, and its story had begun to unfold.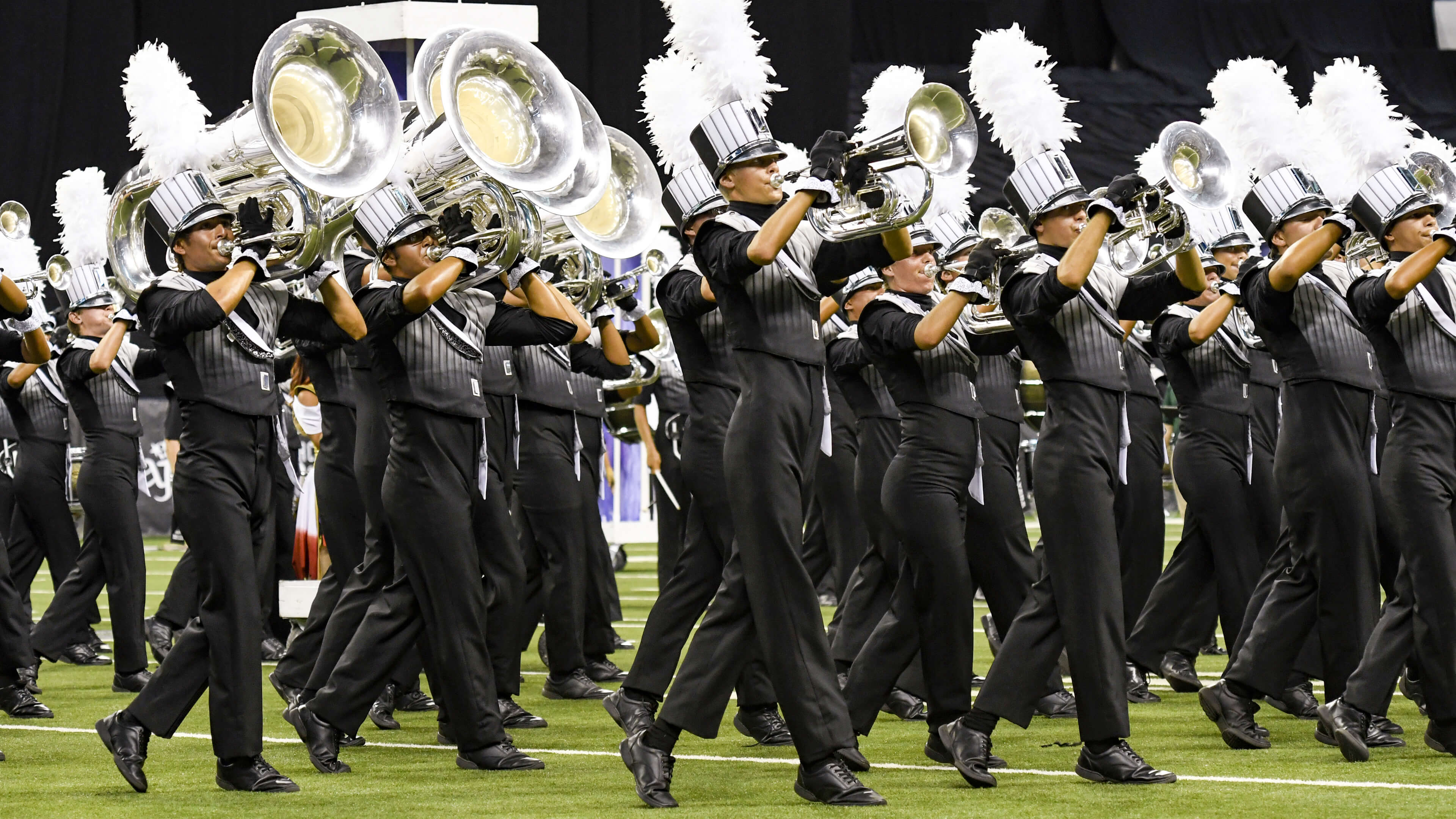 The first of four individually-titled movements, "Love," effectively encapsulated its own title with Nino Rota's beautiful melodies remaining the central focus. With added influences from Sergei Prokofiev's "Romeo and Juliet," Genesis built an unconventionally calm, peaceful opening toward a resonant impact — but quickly, the tone dissolved into the show's true dark and aggressive nature.
It was in this moment of immediate transition that Giuseppe Verdi's "Dies Irae (Requiem)" brought about the production's second movement, "Deception and Anger." Throughout this movement, as the Medea character's involvement grew more chaotic and brooding, Genesis utilized weaving and rapidly-changing drill formations to build the troubled tone of the movement. Red-and-black color guard silks aptly matched the overarching feeling.
It was clear during the production's second movement that Genesis had made a point to highlight its percussion caption. A lengthy front ensemble passage — featuring a prevalent sitar-like voice — transitioned into further narration, an expression of "Medea's" incensed reaction to her husband's unfaithfulness…
"My blood runs cold with the truth of your lies."
…as the show's second movement raced toward a driving battery percussion feature, and its full, fiery conclusion.
Once they hit the movement's final impacts, battery percussion members skirted off to the side of the field, to allow the corps' horn line to re-enter the forefront of the production. Swelling music of Alanis Morisette's "Uninvited" ushered in the program's third movement, "Sadness and Despair."
The opening melodies of the recognizable tune largely featured the corps' horn line. A soft build sharply shifted into an impressive passage of articulated brass music, briefly introducing the theme of Samuel Barber's "Medea." This provided one more aggressive moment before the ballad movement's true entrance, which was rung in with a somber quotation from the show's heartbroken protagonist:
"I am crushed, stripped of all that I was."
In this moment, the main character was seen longingly chasing behind her former love as he ran away, hand-in-hand, with another member of the corps' color guard.
As the two, joined by the majority of Genesis' horn line and battery percussion sections, fled toward the back corner of stage right, "Medea" was left by herself in a vast empty portion of the field, separated from the rest of the ensemble by a long, diagonal line of pillar prop pieces. In this moment, Genesis embodied, visually, the lonely "sadness and despair" of its third movement.
"I am broken," the narration continued. A split second of silent, pregnant pause then gave way to the music of a solo pianist, who introduced Evanescence's "My Heart is Broken."
The song's alternative, hard rock style served as the perfect slow transition of mood for Genesis' third movement — the song itself takes a solemn-sounding opening melody with saddened lyrics, and shifts it into a more angered tone with driving energy.
Genesis' rendition opened with a soft trumpet soloist, while the "Medea" character was seen juxtaposed from her disloyal former love and his new partner. The song's sinister, building chords welcomed Genesis' full corps back into center stage, as brass and percussion performers gradually crossed through the diagonal line of props as they built toward a unified impact.
The ballad's strong, climactic moment — bringing the anguish of heartbreak face to face with the fury of betrayal, opened the door for a final, aptly titled movement: "Revenge."
This final movement, a good four minutes in length, utilized just one piece of music — ever-popular in drum corps circles, made famous to many from its use in Star of Indiana's 1993 program — Samuel Barber's "Medea's Dance of Vengeance."
Genesis' interpretation of Barber's work served as perfect foundation for the chaotic emotions of a revenge tale. Cutting narration played well in tandem with unsettling, syncopated passages of music. If the anger of the show's Medea character wasn't already clear in the tone of the closing movement, said narration hammered the point home:
"I long to watch you suffer, tortured with fire."
As anger grew, so did the show's energy and the music's angst. Color guard members had shed their flowing white dresses to reveal warrior-like costuming, matching the main character's attitude.
In the home stretch, Genesis reintroduced several of its prior themes to tie the story together — melodies of "Dies Irae" and Nino Rota's "Love Theme," all interwoven with continued passages of "Medea's Dance of Vengeance," kept the audience on its toes into the show's final moments.
Finally, as brass players cleared out from the center of the field, a last battle took place; Medea was displayed overtaking and killing the woman who lured away her former significant other, then darkly stood over him as he mourned his loss. Medea then struck a second time, taking the man's life as well.
With an ominous attitude, backed by energetic final notes and fast-moving drill formations, Medea then ran from the scene and crossed the front sideline. As the sound of evil laughter rung from the corps' speakers — Genesis' horn line forming the shape of two angry eyes, with color guard members' orange flags serving as the fiery pupils — she then took to the conductor's podium, presiding proudly over her successful revenge and taking a new lover in the form of the lead drum major.
Wheels in Motion
In Genesis' seventh and last season as an Open Class participant, the corps extended its streak of top-four Open Class finishes to four years, and its streak of top-six finishes to six years. The corps broke 75 points in the Open Class World Championship Finals competition for the third consecutive season since score rubrics shifted to match their World Class counterparts.
Genesis' tour featured an impressive volume of DCI Tour appearances for an Open Class corps; the Texas corps competed at 25 events, opening its tour June 26 in Michigan City, Indiana, where it would ultimately compete in August's Open Class World Championships.
The corps found itself on somewhat of a competitive island for most of the 2016 season, scoring a few points back from top Open Class ensembles like Blue Devils B and Vanguard Cadets, while significantly outscoring other competitors like Shadow and Colt Cadets.
Things heated up in August, though, when Genesis finally met up with Legends and Spartans. The three corps only met once head-to-head prior to World Championship events, but all scored within 0.7 points of one another at a key August 6 event in Avon Lake, Ohio, with Legends out in front of Genesis by just one tenth of a point.
Ultimately, the three corps' order held serve — Legends in third, Genesis in fourth, Spartans in fifth — at the Open Class World Championship events. However, Genesis made a late competitive push in Indianapolis, leaping ahead of Legends by 0.225 points in the corps' final appearance, August 12 at the DCI World Championship Semifinals.
Genesis generally found its competitive strength in music captions. Caption rankings shifted drastically throughout August's Open Class events, but Genesis scored as high as 22nd in the brass subcaption on the DCI World Championship Semifinals leaderboard, ahead of the horn lines of the Seattle Cascades, Legends and Spartans.
Related Content